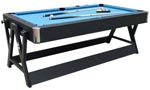 7 FOOT POOL / AIR HOCKEY DUAL TABLE
Changing games is almost effortless
Billiard Table Size: 7FT x 3.6FT
Air Hockey Table Size: 7FT x 4FT
One of the best quality tables on the market.
Table Features:
Pocket sharp is English style (smaller)
Cushion rubber is L sharp for snooker table
Cloth is Directional nap cloth (thicker)
Bed support is Steel bean
Fan is Super charge cyclone fan
Leg construction is Heavy duty steel
Feet are adjustable
Locking devices are Quick release (Patented)
Safety warning sign
New Feature1: with bats, pucks and ball holders!
New Feature 2: the power cord is safely located at side, not from the middle pocket!
The steel frame under the bed board makes this table's performance as good as a slate bed table.
Accessories includes: set of 2 inch pool balls, 2 x 57 inch quality cues, a brush, 2 chalks, a triangle, 4 air hockey bats, 4 air hockey pucks
Weight: 158kg
Package Size: 222 x 132 x 21cm